Busprestige COVID-19 prevention in buses
2020-04-25

Posted by

Bus Prestige
Możliwość komentowania

Busprestige COVID-19 prevention in buses

została wyłączona
Busprestige producer of buses and minibuses presents the newest COVID-19 solution for buses
Europe Quality and Design by Busprestige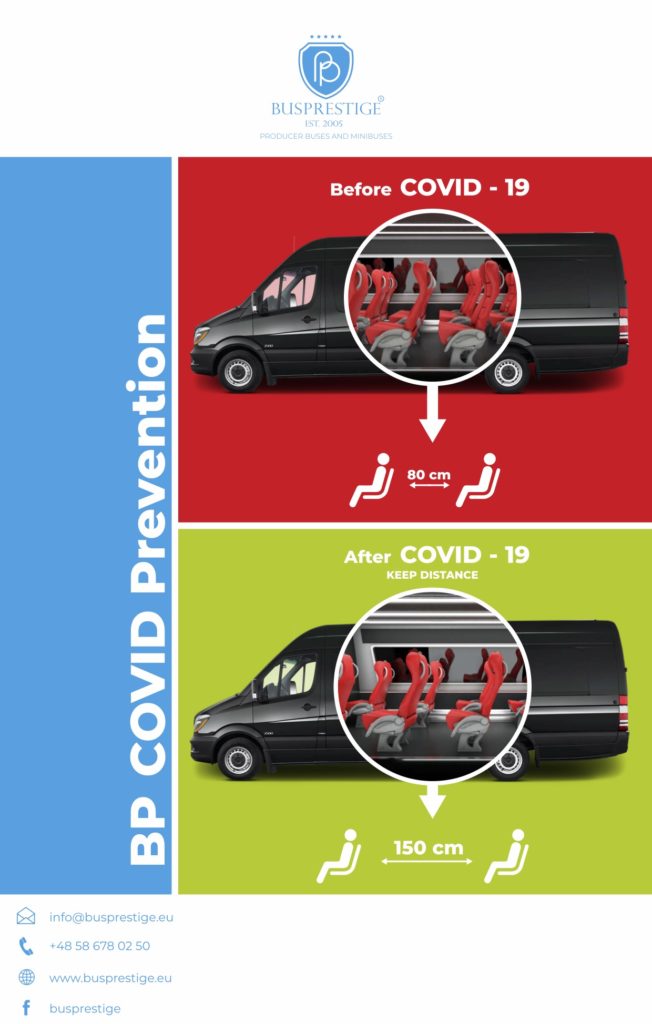 Busprestige is a producer of luxury bus vehicles on the Mercedes-Benz Sprinter chassis.
Busprestige is the leader on the Mercedes-Benz Sprinter Bus commercial vehicle market and presents the latest solutions and sets trends in the bus segment.
In calculating the global pandemic of the COVID-19 coronovirus bacteria, the vehicle manufacturer Busprestige presents a unique solution in its vehicles to provide distance for passengers.
Busprestige bus buildings are based on a unique solution for mounting passenger seats on the rail system. This solution allows for easy arrangement and modification of the seat arrangement in a Bus Sprinter vehicle.
Dismantling the seats, moving the seats, changing the seating arrangement into conference mode is an example of the use of easy and uncomplicated arrangement of the seating arrangement.
Moving the seats and Increasing the space between the seats is a key aspect of meeting the requirements of the WHO World Health Organization and ensuring social distance.
The solution for mounting seats on the rail system also allows the dismantling of passenger seats and wheelchairs can be transported in this place.
The Busprestige company offers additional equipment for seats with certified quick couplings, which are an additional facilitation in the modification of the passenger space.
The Busprestige company is working on developing additional and modern solutions in Bus Sprinter vehicles to provide social distance resulting from the COVID-19 pandemic and separation of the driver's space.