Mercedes Benz Sprinter 519 I Busprestige Turystyczny XL 19+1+1 BP.468
BP.468
Price On Request
Busprestige Elite Manufacturer of Buses & Minibuses
Presenting our bus in "BP 468" version with seat configuration passenger 19 + 1 driver + 1 pilot.
Europe Quality and Design by Busprestige
1. Vehicle: Mercedes Benz Sprinter 519
2. Year: 2021
3. Engine: Diesel
4. Color: Silver
5. Gearbox: Automatic
6. Version: BP Tourist
7. Lenght: Extended XL
8.Seat: 19+1+1
9. Wheelchair: None
… more information at the email address busprestige@busprestige.pl
1.0 - PRIMARY CONVERSION
1.1 - Thermal and sound insulation
1.2 - Electro installation with control unit
1.3 - Saloon upholstery
1.4 - Bus safety equipment
1.5 - Saloon LED light
2.0 - SEATS
2.1 - Seat recline backrest
2.2 - Seat with 3P belts
2.3 - Seats rails system
2.5 - Driver's seat in passenger seats material
3.0 - WINDOWS
3.1 -Double-glazed side windows
3.2 - Tinted windows
3.8 - Side windows curtains
4.0 - PASSENGER ENTRY
5.0 - HEATING SYSTEM / A-C SYSTEM
5.1. - Saloon convecting heaters
5.2. - Water heating system
5.4 - Driver air-conditioning system
5.5 - Saloon air-conditioning system
6.0 - LUGGAGE/BOOT
6.1 - Head luggage racks with panels
7.0 - AUDIO
7.2 - Monitor TV
7.3 - Saloon sound system
7.4 - Rear view camera
7.5 - USB socket
8.0 - OTHER EQUIPMENT
VanPartner by Mercedes-Benz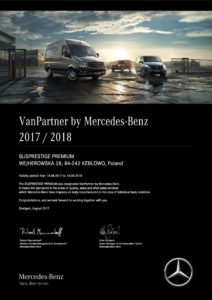 Testimonials
Modern buses. Best Quality. I am very happy with cooperation with Busprestige company.

Tiempo Travel - Alex Engel (Espania)

We bought the first car from Busprestige. It was a good decision. The bus was made in accordance with the Order and on time. The company provides vehicle service. We are planning next purchases at Busprestige company.

Luxtravel Agency - John Smith (UK)

Słyszałem dużo pozytywnych opinii o firmie Busprestige. Postanowiłem odwiedzić firmę i zobaczyć jak wygląda ich produkcja. Podobało mi się, że kontrolują jakość na każdym etapie produkcji oraz posiadają własny dział serwisowy. Kupiłem pierwszego bus i jestem bardzo zadowolony. Kolejne busy tylko z Busprestige.

Jacek Lechicki - Właściciel Firmy Usługi Transportowe (Polska)

Serdeczne podziękowania za dobrze wykonana pracę. Busik wyszedł super.

Andrzej Kozłowski - Vipbus (Polska)

Ich habe meinen Bus bei der Firma BUSPRESTIGE gekauft und bin von meinem Einkauf sehr zufrieden. Der Bus ist jetzt schon seid 8 Monaten non stop in Einsatz und alles läuft super.

Helmut Muller Resien Travel (Österreich)

vor einem Jahr haben wir unseren ersten Sprinter Reisebus bei BUSPRESTIGE gekauft jetzt bestellten wir schon den nächsten, einfach eine super qualität, deutschprechender Ansprechpartner und ein sehr guter Service, so eine Firma kann ich vom ganzen Herzen nur empfehlen!

Hans Heckmann (Deutschland)

Bin Stammkunde bei Firma Busprestige und unsere Busse fahren in der Schweiz. Ich bin mit der verarbeitung und der qualität der Busprestige Busse sehr zufrieden. In dieser Firma bekommen wir immer eine kompetente, ausführliche und sehr freundliche Beratung. Die Bestellung so wie auch die komplette Kaufabwicklung ist TOP!

Heinrich Baumann (Schweiz)

Wir haben vor 3 Jahren einen neuen Sprinter mit 24 Sitzplätzen für unseren Verein bei BUSPRESTIGE gekauft. Wir sind bis heute mit dem Fahrzeug sehr zufrieden! Die Verarbeitung und Qualität ist super! Besonders hervorheben möchten wir auch die Betreuung der Firma BUSPRESTIGE. Von der Bestellung bis heute hat sich Herr Jaroszewski stets hervorragend um unsere Anliegen gekümmert! Er spricht perfekt deutsch! Diese Firma ist aus unserer Sicht sehr zu empfehlen! Jörg Kohlhepp Geschäftsführer von Zukunft für DICH e.V

Jörg K
Subscribe to Our Newsletter
Recent Vehicles
Last added buses
copy of Mercedes Benz Sprinter 519 I Busprestige Turystyczny XL 19+1+1 BP.468
BP.468
Price On Request
Busprestige Elite Manufacturer of Buses & Minibuses
Presenting our bus in "BP 468" version with seat configuration passenger 19 + 1 driver + 1 pilot.
Europe Quality and Design by Busprestige
1. Vehicle: Mercedes Benz Sprinter 519
2. Year: 2021
3. Engine: Diesel
4. Color: Silver
5. Gearbox: Automatic
6. Version: BP Tourist
7. Lenght: Extended XL
8.Seat: 19+1+1
9. Wheelchair: None
… more information at the email address busprestige@busprestige.pl
1.0 - PRIMARY CONVERSION
1.1 - Thermal and sound insulation
1.2 - Electro installation with control unit
1.3 - Saloon upholstery
1.4 - Bus safety equipment
1.5 - Saloon LED light
2.0 - SEATS
2.1 - Seat recline backrest
2.2 - Seat with 3P belts
2.3 - Seats rails system
2.5 - Driver's seat in passenger seats material
3.0 - WINDOWS
3.1 -Double-glazed side windows
3.2 - Tinted windows
3.8 - Side windows curtains
4.0 - PASSENGER ENTRY
5.0 - HEATING SYSTEM / A-C SYSTEM
5.1. - Saloon convecting heaters
5.2. - Water heating system
5.4 - Driver air-conditioning system
5.5 - Saloon air-conditioning system
6.0 - LUGGAGE/BOOT
6.1 - Head luggage racks with panels
7.0 - AUDIO
7.2 - Monitor TV
7.3 - Saloon sound system
7.4 - Rear view camera
7.5 - USB socket
8.0 - OTHER EQUIPMENT
VanPartner by Mercedes-Benz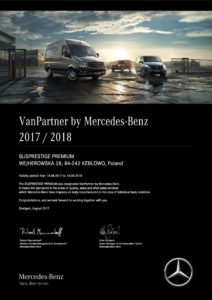 Testimonials
Modern buses. Best Quality. I am very happy with cooperation with Busprestige company.

Tiempo Travel - Alex Engel (Espania)

We bought the first car from Busprestige. It was a good decision. The bus was made in accordance with the Order and on time. The company provides vehicle service. We are planning next purchases at Busprestige company.

Luxtravel Agency - John Smith (UK)

Słyszałem dużo pozytywnych opinii o firmie Busprestige. Postanowiłem odwiedzić firmę i zobaczyć jak wygląda ich produkcja. Podobało mi się, że kontrolują jakość na każdym etapie produkcji oraz posiadają własny dział serwisowy. Kupiłem pierwszego bus i jestem bardzo zadowolony. Kolejne busy tylko z Busprestige.

Jacek Lechicki - Właściciel Firmy Usługi Transportowe (Polska)

Serdeczne podziękowania za dobrze wykonana pracę. Busik wyszedł super.

Andrzej Kozłowski - Vipbus (Polska)

Ich habe meinen Bus bei der Firma BUSPRESTIGE gekauft und bin von meinem Einkauf sehr zufrieden. Der Bus ist jetzt schon seid 8 Monaten non stop in Einsatz und alles läuft super.

Helmut Muller Resien Travel (Österreich)

vor einem Jahr haben wir unseren ersten Sprinter Reisebus bei BUSPRESTIGE gekauft jetzt bestellten wir schon den nächsten, einfach eine super qualität, deutschprechender Ansprechpartner und ein sehr guter Service, so eine Firma kann ich vom ganzen Herzen nur empfehlen!

Hans Heckmann (Deutschland)

Bin Stammkunde bei Firma Busprestige und unsere Busse fahren in der Schweiz. Ich bin mit der verarbeitung und der qualität der Busprestige Busse sehr zufrieden. In dieser Firma bekommen wir immer eine kompetente, ausführliche und sehr freundliche Beratung. Die Bestellung so wie auch die komplette Kaufabwicklung ist TOP!

Heinrich Baumann (Schweiz)

Wir haben vor 3 Jahren einen neuen Sprinter mit 24 Sitzplätzen für unseren Verein bei BUSPRESTIGE gekauft. Wir sind bis heute mit dem Fahrzeug sehr zufrieden! Die Verarbeitung und Qualität ist super! Besonders hervorheben möchten wir auch die Betreuung der Firma BUSPRESTIGE. Von der Bestellung bis heute hat sich Herr Jaroszewski stets hervorragend um unsere Anliegen gekümmert! Er spricht perfekt deutsch! Diese Firma ist aus unserer Sicht sehr zu empfehlen! Jörg Kohlhepp Geschäftsführer von Zukunft für DICH e.V

Jörg K
Subscribe to Our Newsletter
Recent Vehicles
Last added buses