Mercedes-Benz Sprinter 519 | Busprestige Transfer XL 22+1+1 | BP.459 used
BP.459 used bus
BP.459 – used bus in version "BP Transfer"
Mercedes-Benz Sprinter 519 XL bus in 24 seat. 
---
Busprestige Elite Manufacturer of Buses & Minibuses
Presenting our new bus in "BP Transfer" 
version with seat configuration 22
passenger + 1 driver + 1 pilot.
Europe Quality and Design by Busprestige
---
Busprestige European company has been on the market since 2005. We offer professional luxury bus conversions in the configuration from 6 to 24 seats. Busprestige is certified company with automotive authority UCA, quality management ISO 9001:2015 and high production compliance with Directive 2007/46/EC – approvals vehicle for class N1/M1/M2/M3.  Busprestige is qualified partner Mercedes-Benz VanPartner and Accredited VW Converter.
Busprestige conversion keep Mercedes-Benz Warranty. We guarantee trade-up Busprestige vehicle after 24-36 months. 
---
Mercedes-Benz Sprinter safety bus standard
Mercedes-Benz Sprinter model 519 CDI wheelbase 4325 – model 906
Engine: 3000 ccm diesel
Emission level: Euro VI
Manual gearbox
Milage 77.600 km
Busprestige bus safety conversion
Busprestige Saloon Area
Thermal and sound isolation, electric installation
Vehicle extension XL (+40 cm)
Wood non-slip flooring
Roof panelling
Windows pillar panelling
Seat 3P belt, armrest, back table
Seat reclining backrest
Seat installed on rails
Main entry powered front bus door
Low entry
Entry handrail
Busprestige windows
Side windows double glazed, tinted
Side windows in factory place extended
Busprestige A/C system, heating system
driver front A/C for a driver
saloon A/C power 10 kW
convector hot-water heater in the saloon area
Busprestige multimedia
Multimedia: 2Din radio
loudspeakers in the saloon area
Monitor LCD
Busprestige luggage space
Saloon head luggage racks with panels
The rear boot luggage area
---

1.0 - PRIMARY CONVERSION
1.1 - Thermal and sound insulation
1.2 - Electro installation with control unit
1.3 - Saloon upholstery
1.4 - Bus safety equipment
2.0 - SEATS
2.1 - Seat recline backrest
2.2 - Seat with 3P belts
2.3 - Seats rails system
3.0 - WINDOWS
3.2 - Tinted windows
3.3 - Side windows standard
4.0 - PASSENGER ENTRY
4.1 - Entrance steep lowered
4.2 - Standard front door
5.0 - HEATING SYSTEM / A-C SYSTEM
5.1. - Saloon convecting heaters
5.2. - Water heating system
5.4 - Driver air-conditioning system
5.5 - Saloon air-conditioning system
6.0 - LUGGAGE/BOOT
6.1 - Head luggage racks with panels
6.3 - Rear luggage compartment
7.0 - AUDIO
7.2 - Monitor TV
7.3 - Saloon sound system
Standard vehicle equipment:
9147

Paint, arctic white MB 9147

A50

Front axle with increased load capacity

AR3

Axle ratio i = 4,182

BB9

Electronic Stability Program (ESP9i)

C42

RA stabilizer under frame

C45

Reinforced front axle stabilizer bar

C906

Baureihe 906

CF2

Chassis for application A

CF6

Springs and dampers, front, reinforced

CL1

Height and rake adjustable steering wheel

D03

High roof

D93

Omission partition

E30

Battery main switch single-pole

E33

Battery management

ED4

AGM battery 12 V 92 Ah

ED8

Preinstallations electrical system, PSM

EK1

Terminal strip for electrical connection

EL8

2-way loudspeakers, front

ER0

Radio, pre-wiring

ES0

Starting aid contact

F68

Exterior mirror heated and electr. adjustable

F906

BAUREIHE 906 - TRANSPORTER NCV3

FF5

Shelf above windscreen

FKA

Panel van

GD9

6-speed manual transmission ECO Gear 480

HH2

Electrically powered hot-air auxiliary heater

HH9

TEMPMATIC semi-automatic air conditioning

HI1

Climate zone 1 (cold/comfort)

IG3

Sprinter standard

IL2

Export code

IL4

EU / EFTA region

IR7

Wheelbase 4325 mm, overhang 2015 mm

IT5

5.0 tonner

J10

Speedometer, km/h

J58

Seat belt warning for driver's seat

J65

Outside temperature gauge

JD2

Digital tachograph, EC, with download capability

JG0

Shift point indicator

JW6

ASSYST service interval indicator

KB0

Main tank, 100 litres

KL5

Fuel filter with water separator

KP1

Kraftstoffpumpe, elektrisch, geregelt

L

LINKS-LENKUNG

L94

Omission parking lamp

LB1

Side marker lights

LB5

3rd Brake light

LE1

Adaptive brake lights

LG5

Daytime running lamps

LX5

Europe

M49

Alternator 14 V / 180 A

MD5

Linear speed limiter 100 km/h EG

MG5

Engine OM 642 DE 30 LA 140 kW (190 hp) 3800 rpm

ML5

Generator management, Plus

MP6

Engine version, Euro VI

N63

Front engine power take-off with carrier for addit. refrig. compr.

P47

Front mud flaps

P48

Mud flaps, rear

R65

Spare wheel bracket below frame end

R87

Spare wheel

RF1

Make of tyres Continental (10)

RG3

Tyres 205/75 R 16 C

RM7

Summer tyres

RS6

Steel rims 5,5 J x 16

S22

Armrest for driver's seat

S91

Non-supply of co-driver seat

S99

Seat base for front passenger's seat not provided

SA5

Airbag, front driver's seat

SW1

Omission of seat belt, belt buckle height adjustment, front passenger side

T93

Sliding door not provided

V93

Omission wooden floor

VD3

Wagon roof lining up to B-pillar

VY2

Black Tunja fabric
Buses are our passion
Busprestige mission is customer satisfaction resulting our passion for buses.
VanPartner by Mercedes-Benz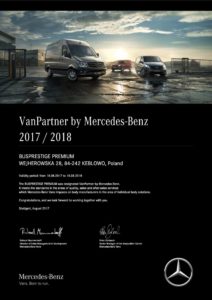 Testimonials
Modern buses. Best Quality. I am very happy with cooperation with Busprestige company.

Tiempo Travel - Alex Engel (Espania)

We bought the first car from Busprestige. It was a good decision. The bus was made in accordance with the Order and on time. The company provides vehicle service. We are planning next purchases at Busprestige company.

Luxtravel Agency - John Smith (UK)

Słyszałem dużo pozytywnych opinii o firmie Busprestige. Postanowiłem odwiedzić firmę i zobaczyć jak wygląda ich produkcja. Podobało mi się, że kontrolują jakość na każdym etapie produkcji oraz posiadają własny dział serwisowy. Kupiłem pierwszego bus i jestem bardzo zadowolony. Kolejne busy tylko z Busprestige.

Jacek Lechicki - Właściciel Firmy Usługi Transportowe (Polska)

Serdeczne podziękowania za dobrze wykonana pracę. Busik wyszedł super.

Andrzej Kozłowski - Vipbus (Polska)

Ich habe meinen Bus bei der Firma BUSPRESTIGE gekauft und bin von meinem Einkauf sehr zufrieden. Der Bus ist jetzt schon seid 8 Monaten non stop in Einsatz und alles läuft super.

Helmut Muller Resien Travel (Österreich)

vor einem Jahr haben wir unseren ersten Sprinter Reisebus bei BUSPRESTIGE gekauft jetzt bestellten wir schon den nächsten, einfach eine super qualität, deutschprechender Ansprechpartner und ein sehr guter Service, so eine Firma kann ich vom ganzen Herzen nur empfehlen!

Hans Heckmann (Deutschland)

Bin Stammkunde bei Firma Busprestige und unsere Busse fahren in der Schweiz. Ich bin mit der verarbeitung und der qualität der Busprestige Busse sehr zufrieden. In dieser Firma bekommen wir immer eine kompetente, ausführliche und sehr freundliche Beratung. Die Bestellung so wie auch die komplette Kaufabwicklung ist TOP!

Heinrich Baumann (Schweiz)

Wir haben vor 3 Jahren einen neuen Sprinter mit 24 Sitzplätzen für unseren Verein bei BUSPRESTIGE gekauft. Wir sind bis heute mit dem Fahrzeug sehr zufrieden! Die Verarbeitung und Qualität ist super! Besonders hervorheben möchten wir auch die Betreuung der Firma BUSPRESTIGE. Von der Bestellung bis heute hat sich Herr Jaroszewski stets hervorragend um unsere Anliegen gekümmert! Er spricht perfekt deutsch! Diese Firma ist aus unserer Sicht sehr zu empfehlen! Jörg Kohlhepp Geschäftsführer von Zukunft für DICH e.V

Jörg K
Subscribe to Our Newsletter
Financing Calculator
| | |
| --- | --- |
| Cost of Vehicle ( Euro): | |
| Down Payment ( Euro): | |
| Annual Interest Rate (%): | |
| Term of Loan in Years: | |
Calculate My Payment
| | |
| --- | --- |
| NUMBER OF PAYMENTS: | 60 |
| PAYMENT AMOUNT: | Euro 89.11 |
Recent Vehicles
Last added buses