Mercedes-Benz Sprinter 519 | Busprestige Exclusive XL 19+1+1 | BP.398
BP.398
Price On Request
BP.398 – brand new luxury bus in version "BP Exclusive"
Mercedes-Benz Sprinter 519 XL bus in 21 seat. 
---
Busprestige Elite Manufacturer of Buses & Minibuses
Presenting our new luxury bus in "BP Exclusive"
 with seat configuration 
19 passenger + 1pilot + 1 driver. The Bus 
has got awards 
at Busworld Expo in Brussel 2019.
Europe Quality and Design by Busprestige
---
Busprestige European company has been on the market since 2005. We offer professional luxury bus conversions in the configuration from 6 to 24 seats. Busprestige is certified company with automotive authority UCA, quality management ISO 9001:2015 and high production compliance with Directive 2007/46/EC – approvals vehicle for class N1/M1/M2/M3.  Busprestige is qualified partner Mercedes-Benz VanPartner and Accredited VW Converter.
Busprestige conversion keep Mercedes-Benz Warranty. We guarantee trade-up Busprestige vehicle after 24-36 months. 
---
Mercedes-Benz Sprinter safety bus standard
Mercedes-Benz Sprinter model 519 CDI wheelbase 4325
Engine: 3000 ccm diesel (code MG5)
Emission level: Euro VI (code MP6)
Automatic gearbox 7G Tronic plus (code G42)
LED high-performance headlamps (code LG7)
Reinforcement suspension stabilization level II (code CB8)
Body raised (code CE8)
Intelligent tachograph, EU (code JD6)
Auxiliary battery (code E2M)
Reinforced tires 205/75 R16C (code RG3)
Main tank 93 litres (code KB7)
Weight vehicle 5.500 kg (code XL4)
Body-in-white measures for ECE rollover test (code ZU1)
Trailer coupling, rigid coupling head (Q22)
Speed limitation 100 km/h, EC (code MD5)
Busprestige bus safety conversion
Busprestige Saloon Area
Thermal and sound isolation, electric installation
Reinforced vehicle bus construction R.66 – ECE rollover test
Vehicle extension XL (+40 cm)
Wood non-slip flooring
Lux interior and roof panelling
Lux windows pillar panelling
Lux driver interior panelling
Seat 3P belt, armrest, back table
Seat reclining backrest
Seat installed on rails
Main entry powered front bus door
Low entry
Entry handrail
Saloon roof and wall LED lights
Saloon gangway LED lights
Busprestige windows
Side windows double glazed, tinted
Side windows in factory place extended (half panoramic)
Busprestige A/C system, heating system
driver front A/C for a driver, power 4.5 kW (Mercedes code HH9)
saloon A/C power 11 kW with digital panel (Webasto)
hot-water auxiliary heater power 5kW (Mercedes code H12)
convector hot-water heater in the saloon area
Busprestige multimedia
Multimedia: radio/navi/cd/mp3/microphone
loudspeakers in the saloon area
Monitor LCD
USB sockets (charging)
Busprestige luggage space
Saloon head luggage racks with panels
The rear boot luggage area
Driver box
Busprestige exterior and limited decoration 
Painting parts in body colour
Chrome wheels package
Tuning body kit
Busprestige certificate and warranty
Certificate COC 2007/46/EC
Certificate Busprestige conversion
Mercedes warranty 2 years unlimited mileage
Busprestige warranty 2 years unlimited mileage
---
---
1.0 - PRIMARY CONVERSION
1.1 - Thermal and sound insulation
1.2 - Electro installation with control unit
1.3 - Saloon upholstery
1.4 - Bus safety equipment
1.5 - Saloon LED light
2.0 - SEATS
2.1 - Seat recline backrest
2.2 - Seat with 3P belts
2.3 - Seats rails system
2.4 - Seats VIP version
2.5 - Driver's seat in passenger seats material
3.0 - WINDOWS
3.2 - Tinted windows
3.5 - Side windows full panorama
3.8 - Side windows curtains
4.0 - PASSENGER ENTRY
4.1 - Entrance steep lowered
4.4 - Bus Panoramic front door electric power-operated
5.0 - HEATING SYSTEM / A-C SYSTEM
5.1. - Saloon convecting heaters
5.2. - Water heating system
5.4 - Driver air-conditioning system
5.5 - Saloon air-conditioning system
6.0 - LUGGAGE/BOOT
6.1 - Head luggage racks with panels
6.3 - Rear luggage compartment
7.0 - AUDIO
7.1 - Radio MBUX system
7.2 - Monitor TV
7.3 - Saloon sound system
7.4 - Rear view camera
7.5 - USB socket
8.0 - OTHER EQUIPMENT
8.1 - Bus refrigerator
8.9 - Chrom body parts
8.10 - Bumpers painted in body color
8.11 - Sprinter design body kit
A50

Vorderachse mit erhöhter Traglast

AR3

Achsübersetzung i = 4,182

BA3

Aktiver Brems-Assistent

BH1

HOLD-Funktion

BH7

Steuercode Hydroaggregatevariante 6

BK6

Steuercode Radbremsenkonfiguration 6

C6L

Multifunktionslenkrad

CB8

Stabilisierung Stufe II

CE8

Aufbau höhergesetzt

CL1

Lenkrad in Neigung und Höhe verstellbar

CL3

Lederlenkrad

CN2

Kühlergrillrahmen in Wagenfarbe

D03

Dach hoch

D93

Wegfall Trennwand

E07

Berganfahrhilfe

E1O

MB Audiosystem

E2A

Abgriff ABH-Sondersignale Cockpit

E2M

Zusatzbatterie für Nachrüstverbraucher, Motorr.

E30

Batteriehauptschalter einpolig

E36

Trennrelais bei Batterie zusätzlich

E3J

Vorrüstung Schalterfeld

E43

Anhängersteckdose 13-polig

ED4

Vliesbatterie 12 V 92 Ah

ED8

Vorrüstung Elektrik, parametrierbares Sondermodul

EK1

Klemmleiste für Elektroanschluss

ES0

Starthilfe - Kontakt

EY5

Mercedes-Benz Notrufsystem

EY6

Pannenmanagement

F61

Innenspiegel

F68

Außenspiegel heizbar und elektrisch verstellbar

FF5

Ablage über Frontscheibe

FG8

Cupholder vorn

FJ4

Ablagefach unter Cockpit

FK3

Kühlergrill verchromt

FKA

Kastenwagen

G42

7G-TRONIC Plus

H12

Warmwasser-Zusatzheizung

H1B

Bedienung Tachograph vorn unter Dachhimmel

H21

Wärmedäm. Glas rundum m. Bandfilt. a. d. Frontscheibe

H22

Heckscheibe heizbar

H88

Vorbereitung für Zusatzwärmetauscher

HH2

Warmluft- Zusatzheizung elektrisch

HH9

Halbautomatisch geregelte Klimaanlage TEMPMATIC

HI1

Klimazone 1 (kalt/komfort)

IC1

Baureihe C907/C910 Sprinter

IE0

Baureihe C907 VS30 RWD

IG4

Standard

IG5

Basic

IH6

Headunit ECE/RoW

IK0

Komplettfahrzeug

IL2

Export - Code

IL5

Linkslenker

IL6

Metallic-Lack

IR7

Radstand 4325 mm, Überhang 2015 mm

IT5

5,0 Tonner

J10

Tachometer km/h

J58

Gurtwarneinrichtung für Fahrersitz

J65

Außentemperaturanzeige

JA8

Seitenwind-Assistent

JD6

Intelligenter Tachograf EU

JH3

Kommunikationsmodul (LTE) für digitale Dienste

JI7

Startlaufstrecke Wartungsintervall 60.000 km

JW5

Spurhalte Assistent

KB7

Haupttank 93 Liter

KL5

Kraftstofffilter mit Wasserabscheider

KP6

Abgasreinigung SCR Generation 3

L

L22

Heckleuchten in Teil-LED-Technik

L94

Wegfall Parklicht

LA2

Fahrlichtassistent

LB1

seitliche Markierungsleuchten

LB5

3. Bremsleuchte

LE1

Adaptives Bremslicht

LG7

LED High Performance-Scheinwerfer

LX5

Europa

M49

Generator 14 V / 180 A

MD5

Geschwindigkeitsbegrenzung 100 km/h EG

MG5

Motor OM 642 DE 30 LA 140 kW (190 PS) 3800/min

MI9

Wegfall Eco-Start-Stopp-Funktion

MP6

Motorausführung Euro VI

MQ0

OBD (On Board Diagnose) Stufe D

MS1

Tempomat

N63

Motorabtr. vorn M.träger f. zusätzl. Kältem. Verd.

P38

Vorbereitung Zulassung als Bus

P47

Schmutzfänger vorn

P48

Schmutzfänger hinten

P93

Wegfall Zurrösen

Q11

Längsträgerverstärkung

Q22

Anhängerkupplung Kugelkopf fest

R65

Reserveradhalter unter Rahmenende

R87

Reserverad

RF1

Reifenfabrikat Continental (10)

RG3

Bereifung 205/75 R 16 C

RM7

Sommerreifen

RS6

Stahlräder 5,5 J x 16

RZ1

Räderfabrikat mefro wheels

S22

Armlehne für Fahrersitz

S91

Wegfall Beifahrersitz

S99

Wegfall Sitzkasten Beifahrer

SA5

Airbag Fahrer

SB1

Fahrersitz Komfort

SK2

Sitzbelegungserkennung Fahrersitz

SW1

Wegfall Gurt, Gurtschl. höhenverst. BF-Seite

T93

Wegfall Laderaumschiebetür

V85

Raucherpaket

V93

Wegfall Holzfussboden

VA5

Vollverkleidung Heckdrehtüren

VA7

Ablagefach mit Netz in Hecktüren

VF7

Stoff Maturin schwarz

VL4

Laderaumboden mit abweichender Lackoberfläche

W54

Rückwandtür zweiflügelig 270 Grad

W61

Fenster in Heckklappe / Hecktüren

W70

Colorverglasung in Fond, schwarzglas

WB9

Steuercode Werk

WD8

Steuercode Werk

WM3

Steuercode Werk

WM5

Steuercode Werk

WV0

Steuercode Werk

X42

Schilder / Druckschriften englisch

XC1

COC-Papiere, unvollständig

XI9

Änderungsjahr 9 - I

XL4

Gewichtsvariante 5.500 kg

XO9

Mercedes-Benz Mobilovan mit DSB und GGD

XV1

Bezugsmasse mindestens 2381 kg notwendig

XZ0

Modellgeneration 0

Y26

Unterlegkeil

Y43

Wagenheber hydraulisch

Z1U

Rohbaumaßnahmen für Rollover-Test nach ECE

Z2E

Länderausführung EU - EFTA
Buses are our passion
Busprestige mission is customer satisfaction resulting our passion for buses.
VanPartner by Mercedes-Benz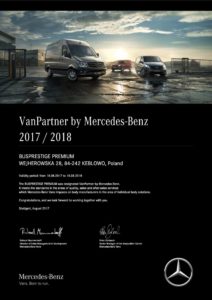 Testimonials
Modern buses. Best Quality. I am very happy with cooperation with Busprestige company.

Tiempo Travel - Alex Engel (Espania)

We bought the first car from Busprestige. It was a good decision. The bus was made in accordance with the Order and on time. The company provides vehicle service. We are planning next purchases at Busprestige company.

Luxtravel Agency - John Smith (UK)

Słyszałem dużo pozytywnych opinii o firmie Busprestige. Postanowiłem odwiedzić firmę i zobaczyć jak wygląda ich produkcja. Podobało mi się, że kontrolują jakość na każdym etapie produkcji oraz posiadają własny dział serwisowy. Kupiłem pierwszego bus i jestem bardzo zadowolony. Kolejne busy tylko z Busprestige.

Jacek Lechicki - Właściciel Firmy Usługi Transportowe (Polska)

Serdeczne podziękowania za dobrze wykonana pracę. Busik wyszedł super.

Andrzej Kozłowski - Vipbus (Polska)

Ich habe meinen Bus bei der Firma BUSPRESTIGE gekauft und bin von meinem Einkauf sehr zufrieden. Der Bus ist jetzt schon seid 8 Monaten non stop in Einsatz und alles läuft super.

Helmut Muller Resien Travel (Österreich)

vor einem Jahr haben wir unseren ersten Sprinter Reisebus bei BUSPRESTIGE gekauft jetzt bestellten wir schon den nächsten, einfach eine super qualität, deutschprechender Ansprechpartner und ein sehr guter Service, so eine Firma kann ich vom ganzen Herzen nur empfehlen!

Hans Heckmann (Deutschland)

Bin Stammkunde bei Firma Busprestige und unsere Busse fahren in der Schweiz. Ich bin mit der verarbeitung und der qualität der Busprestige Busse sehr zufrieden. In dieser Firma bekommen wir immer eine kompetente, ausführliche und sehr freundliche Beratung. Die Bestellung so wie auch die komplette Kaufabwicklung ist TOP!

Heinrich Baumann (Schweiz)

Wir haben vor 3 Jahren einen neuen Sprinter mit 24 Sitzplätzen für unseren Verein bei BUSPRESTIGE gekauft. Wir sind bis heute mit dem Fahrzeug sehr zufrieden! Die Verarbeitung und Qualität ist super! Besonders hervorheben möchten wir auch die Betreuung der Firma BUSPRESTIGE. Von der Bestellung bis heute hat sich Herr Jaroszewski stets hervorragend um unsere Anliegen gekümmert! Er spricht perfekt deutsch! Diese Firma ist aus unserer Sicht sehr zu empfehlen! Jörg Kohlhepp Geschäftsführer von Zukunft für DICH e.V

Jörg K
Subscribe to Our Newsletter
Financing Calculator
| | |
| --- | --- |
| Cost of Vehicle ( Euro): | |
| Down Payment ( Euro): | |
| Annual Interest Rate (%): | |
| Term of Loan in Years: | |
Calculate My Payment
| | |
| --- | --- |
| NUMBER OF PAYMENTS: | 60 |
| PAYMENT AMOUNT: | Euro 89.11 |
Recent Vehicles
Last added buses